AI NO KAZE

Quantity: 1
$1,430 ~ $1,650
Add engraving
×
1. Select an engraving option.
Melee Stones : None
Surface Finish : Sandblasted, Mirror Effect (base in Sandblasted finish, engraved details in Mirror Effect finish)
Available Sizes (Japanese) : 1-30
Resizing : Ring Exchange (Complimentary)
For the actual width (mm), please Contact Us .
Close
SEE MORE
Complimentary Engraving

Complimentary Shipping

No Additional Fees (duties, sales taxes, etc.)
AI NO KAZE
In the heat of high summer, the sight of colorful Japanese irises sprouting along the water's edge offers a welcome reprieve for the senses. Distinctive in shape and hue, these beloved flowers sway softly in the warm breeze, their reflections rippling on the surface of the cool water below.

AI NO KAZE is named after a northern wind that brings cool air from the sea in summer, and also plays on the Japanese words for "love" and "indigo", the color of irises. Capturing the intensity and beauty of an idyllic summer scene, engravings of magnificent irises and their blade-like leaves sweep across the surface of the band. AI NO KAZE conveys the wish that you will enjoy a future as rich as a gorgeous summer day.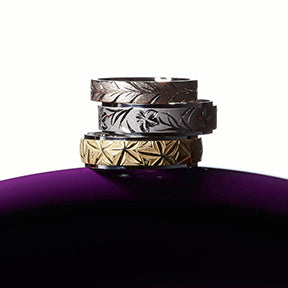 Special Collection
KASHO'S ENGRAVING
Utilizing the same traditional techniques that were once used to engrave the hilt guards of Japanese swords, the KASHO'S ENGRAVING collection features designs that represent the four seasons as experienced in Japan. Encapsulating the splendor of natural beauty, each delicate stroke of petal, bud and leaf is hand-carved by one of NIWAKA's skilled artisans who have inherited metalworking techniques passed down from generation to generation.
|@@|//us.niwaka.com/cdn/shop/files/platinum_100x_5c3211af-b0f2-4b38-823b-4f8f93910be3_100x.jpg?v=1614289587||platinum|@@||@@|//us.niwaka.com/cdn/shop/files/wg_100x_e817e7b0-4e21-4068-bde3-18eb513f6380_100x.jpg?v=1614289587||white-gold|@@||@@|//us.niwaka.com/cdn/shop/files/rose_gold_100x_1dc2f44a-8747-4898-b742-19ff2f8af975_100x.jpg?v=1614289587||rose-gold|@@||@@|//us.niwaka.com/cdn/shop/files/yellow_gold_100x_1_100x.jpg?v=1614289588||yellow-gold|@@||@@|//us.niwaka.com/cdn/shop/files/white-gold-platium_948c677a-b87c_100x.jpg?v=1614289588||white-gold-platinum|@@||@@|//us.niwaka.com/cdn/shop/files/rose-gold-platinum_100x.jpg?v=1614289588||rose-gold-platinum|@@||@@|//us.niwaka.com/cdn/shop/files/yellow-gold-platinum_100x.jpg?v=1614289588||yellow-gold-platinum|@@|