ENGAGEMENT RINGS
NIWAKA is committed to creating rings befitting a bond of eternal love. Using only the highest-quality diamonds and beautifully constructed settings, each ring is designed to give form to the feelings you wish to convey to your loved one.
Premier Collection
SPIRIT OF NIWAKA
Inspired by the gorgeous landscapes and traditional motifs of Japan, the SPIRIT OF NIWAKA collection embodies the essence of NIWAKA's identity as a Kyoto jeweler. Each ring is created as if it were an extraordinary work of art, giving form to the exceptional creativity of our master craftsmen.
Special Collection
NIWAKA CLASSICS
The NIWAKA CLASSICS collection speaks of romance in its purest form, with each design name reflecting a fundamental aspect of a deep and lasting love. Careful attention is paid to every sleek line and gentle curve in order to achieve a perfect balance, while an impeccably crafted inner band makes for a perfectly comfortable fit. 
NIWAKA BRIDAL COLLECTIONS
Design Stories
NIWAKA rings incorporate charming nature motifs and wishes of good fortune for the happy couple. The unique name given to each design is a reference to the beauty that inspired its creation.
Attention to Detail
NIWAKA prides itself on crafting each piece of jewelry to become a work of art, beautiful from every angle. The sophisticated craftsmanship and attention to the smallest of details serve as proof of NIWAKA's devotion to creating fine jewelry.
Custom Pieces
NIWAKA carefully crafts each ring according to the customer's choice of materials, size and engraving. Every gorgeous design is brought to life through skilled craftsmanship and inspected with the strictest of quality standards.
Perfect Pairs
Whether you choose a straight or curved line for your engagement ring, there is a wedding ring that you can pair it with as a charming stacked set. By stacking your engagement and wedding rings together you can create a unique match that is also comfortable to wear.
High Quality Diamonds & Materials
NIWAKA is dedicated to the highest level of quality. Center stones, melee diamonds and all other materials are judged according to the strictest standards before being incorporated into NIWAKA jewelry.
HOW TO ORDER ENGAGEMENT RINGS
Choose the Design and
Send an Inquiry
Click the "Consult Diamond Advisor" button on the design page, select your desired price range and carat weight for the center diamond and send your inquiry.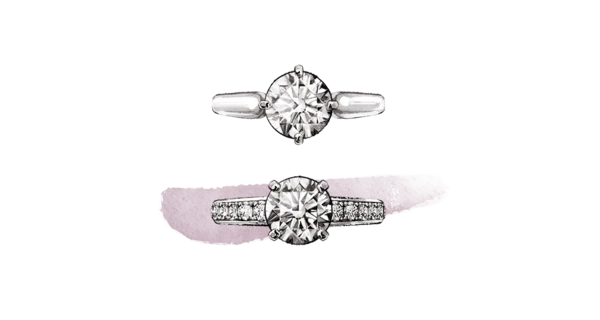 Receive Suggestions from Our Diamond Advisors
Our diamond advisors will send you an email with a link to a curated listing of center diamonds and setting options that best match your specifications.
Make Your Selection and Order
Select your desired diamond and setting combination from the suggested options and place your order. Your ring will be created and delivered upon receipt of payment.
ADVICE