Quantity: 1
$1,430 ~ $1,630
Add engraving
×
1. Select an engraving option.
Melee Stones : None
Surface Finish : Hairline
Available Sizes (Japanese) : 5-22
Resizing : Ring Exchange (Complimentary)
For the actual width (mm), please Contact Us .
Close
SEE MORE
Complimentary Engraving

Complimentary Shipping

No Customs Duties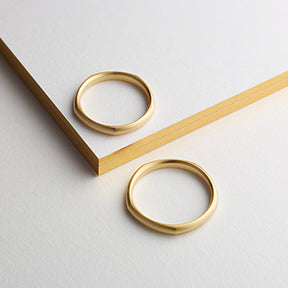 NODOKA
Sometimes there is no need for words, and all it takes is the touch of a hand or the hint of a smile to show your love. Though grand gestures and special occasions may be the highlights of your love story, it is the quiet moments spent basking in affection that become the pillars of a sincere connection.

NODOKA takes its name from the Japanese word for "tranquil" or "peaceful", paying homage to the tenderness shared between two hearts. The variety of designs reflects the countless ways of spending time with those you love, making happy memories and celebrating life. Within NODOKA rests the hope that the couple's future will overflow with sweet and gentle moments.
Special Collection
KYO MOKUME
Much like the rings of a tree tell the story of life, the KYO MOKUME collection represents the months and years spent in love by combining the most precious of metals to form a gorgeous wood grain pattern. NIWAKA has taken the time-honored mokume art to even greater heights by making use of both traditional and modern metalworking techniques. The rings in this collection are well suited to stacking or pairing with other jewelry, and their refined lines and smooth inner bands make them incredibly easy to wear.
|@@|//us.niwaka.com/cdn/shop/files/platinum_100x_5c3211af-b0f2-4b38-823b-4f8f93910be3_100x.jpg?v=1614289587||platinum|@@||@@|//us.niwaka.com/cdn/shop/files/wg_100x_e817e7b0-4e21-4068-bde3-18eb513f6380_100x.jpg?v=1614289587||white-gold|@@||@@|//us.niwaka.com/cdn/shop/files/rose_gold_100x_1dc2f44a-8747-4898-b742-19ff2f8af975_100x.jpg?v=1614289587||rose-gold|@@||@@|//us.niwaka.com/cdn/shop/files/yellow_gold_100x_1_100x.jpg?v=1614289588||yellow-gold|@@||@@|//us.niwaka.com/cdn/shop/files/white-gold-platium_948c677a-b87c_100x.jpg?v=1614289588||white-gold-platinum|@@||@@|//us.niwaka.com/cdn/shop/files/rose-gold-platinum_100x.jpg?v=1614289588||rose-gold-platinum|@@||@@|//us.niwaka.com/cdn/shop/files/yellow-gold-platinum_100x.jpg?v=1614289588||yellow-gold-platinum|@@|