Quantity: 1
$1,300 ~ $1,440
Add engraving
×
1. Select an engraving option.
Melee Stones : None
Surface Finish : Hairline
Available Sizes (Japanese) : 5-22
Resizing : Ring Exchange (Complimentary)
For the actual width (mm), please Contact Us .
Close
SEE MORE
Complimentary Engraving

Complimentary Shipping

No Additional Fees (duties, sales taxes, etc.)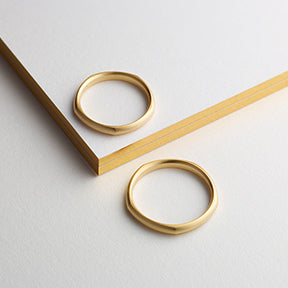 HINATA
A couple basks in the warmth of the sun on a blanket atop a grassy hill, cheerfully enjoying an afternoon picnic under a clear blue sky. As they smile and laugh, the rest of the world seems to fade away, leaving only sun-kissed memories that will last a lifetime.

HINATA, meaning "a place in the sun", expresses solar imagery through its warm, golden hue and a band design that evokes the presence of shining rays with just a hint of five points. Like the brilliant sun in the sky above, HINATA symbolizes the loving warmth that will always embrace the happy pair.
Special Collection
KYO MOKUME
Much like the rings of a tree tell the story of life, the KYO MOKUME collection represents the months and years spent in love by combining the most precious of metals to form a gorgeous wood grain pattern. NIWAKA has taken the time-honored mokume art to even greater heights by making use of both traditional and modern metalworking techniques. The rings in this collection are well suited to stacking or pairing with other jewelry, and their refined lines and smooth inner bands make them incredibly easy to wear.
|@@|//us.niwaka.com/cdn/shop/files/platinum_100x_5c3211af-b0f2-4b38-823b-4f8f93910be3_100x.jpg?v=1614289587||platinum|@@||@@|//us.niwaka.com/cdn/shop/files/wg_100x_e817e7b0-4e21-4068-bde3-18eb513f6380_100x.jpg?v=1614289587||white-gold|@@||@@|//us.niwaka.com/cdn/shop/files/rose_gold_100x_1dc2f44a-8747-4898-b742-19ff2f8af975_100x.jpg?v=1614289587||rose-gold|@@||@@|//us.niwaka.com/cdn/shop/files/yellow_gold_100x_1_100x.jpg?v=1614289588||yellow-gold|@@||@@|//us.niwaka.com/cdn/shop/files/white-gold-platium_948c677a-b87c_100x.jpg?v=1614289588||white-gold-platinum|@@||@@|//us.niwaka.com/cdn/shop/files/rose-gold-platinum_100x.jpg?v=1614289588||rose-gold-platinum|@@||@@|//us.niwaka.com/cdn/shop/files/yellow-gold-platinum_100x.jpg?v=1614289588||yellow-gold-platinum|@@|