Quantity: 1
$910 ~ $1,030
Add engraving
×
1. Select an engraving option.
Melee Stones : None
Surface Finish : Hairline
Available Sizes (Japanese) : 1-30
Resizing : Ring Exchange (Complimentary)
For the actual width (mm), please Contact Us .
Close
SEE MORE
Complimentary Engraving

Complimentary Shipping

No Additional Fees (duties, sales taxes, etc.)
TRUTH
"I truly love you."

TRUTH speaks to the undeniable love you hold for each other, the treasured foundation of every relationship. As long as love exists, there is no force strong enough to tear that bond asunder. Embodying the most personal of beliefs, the TRUTH ring contains the vow that your love will never fade.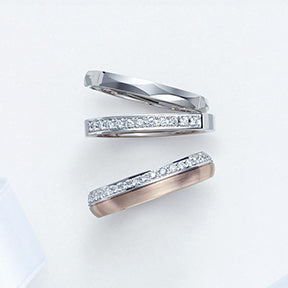 Special Collection
NIWAKA CLASSICS
The NIWAKA CLASSICS collection speaks of romance in its purest form, with each design name reflecting a fundamental aspect of a deep and lasting love. Careful attention is paid to every sleek line and gentle curve in order to achieve a perfect balance, while an impeccably crafted inner band makes for a perfectly comfortable fit. The most precious of metals give NIWAKA CLASSICS rings their gorgeous luster, and select ring designs artfully combine platinum and gold to create a more nuanced effect.
|@@|//us.niwaka.com/cdn/shop/files/platinum_100x_5c3211af-b0f2-4b38-823b-4f8f93910be3_100x.jpg?v=1614289587||platinum|@@||@@|//us.niwaka.com/cdn/shop/files/wg_100x_e817e7b0-4e21-4068-bde3-18eb513f6380_100x.jpg?v=1614289587||white-gold|@@||@@|//us.niwaka.com/cdn/shop/files/rose_gold_100x_1dc2f44a-8747-4898-b742-19ff2f8af975_100x.jpg?v=1614289587||rose-gold|@@||@@|//us.niwaka.com/cdn/shop/files/yellow_gold_100x_1_100x.jpg?v=1614289588||yellow-gold|@@||@@|//us.niwaka.com/cdn/shop/files/white-gold-platium_948c677a-b87c_100x.jpg?v=1614289588||white-gold-platinum|@@||@@|//us.niwaka.com/cdn/shop/files/rose-gold-platinum_100x.jpg?v=1614289588||rose-gold-platinum|@@||@@|//us.niwaka.com/cdn/shop/files/yellow-gold-platinum_100x.jpg?v=1614289588||yellow-gold-platinum|@@|